Half Day or Less
Food and Wine Tours
Pizzini Wines is a family owned winery situated in the beautiful King Valley in Victoria's High Country, 2.5 hours from Melbourne.
Pizzini specialise in the production of Italian grape varieties including Pinot Grigio, Prosecco, Arneis, Sangiovese and Nebbiolo.
Alfredo and Katrina Pizzini built Pizzini Wines based on their passions and their commitment to family and Pizzini's Italian heritage. Their winemaking dream began in 1978 when they planted the first vines on the property, then in 1994 the first wine under the Pizzini label was produced.
Today Alfredo and Katrina's four adult children Natalie, Joel, Carlo and Nicole all work in the business alongside them.
At Cellar Door you can taste a broad range of Italian wine varieties or immerse yourself in one of their specialised tasting experience. There are a range of immersive and hands on experience options to choose from.
Free Wifi
Wine Australia
King Valley
North East Victoria (zone)
Enjoy a structured tasting at the cellar door, experiencing both current and back vintage wines while discussing the Italian wine varietals and how vineyard site and the different 'makers' techniques have influenced wine styles over the years.
All Italian wine varietals are best served with food so following your tasting you can select a glass of wine to enjoy with your picnic lunch in the grounds.
Carpark
Non Smoking
Public Toilet
Half Day or Less
Food and Wine Tours
Disabled access available, contact operator for details.
Basic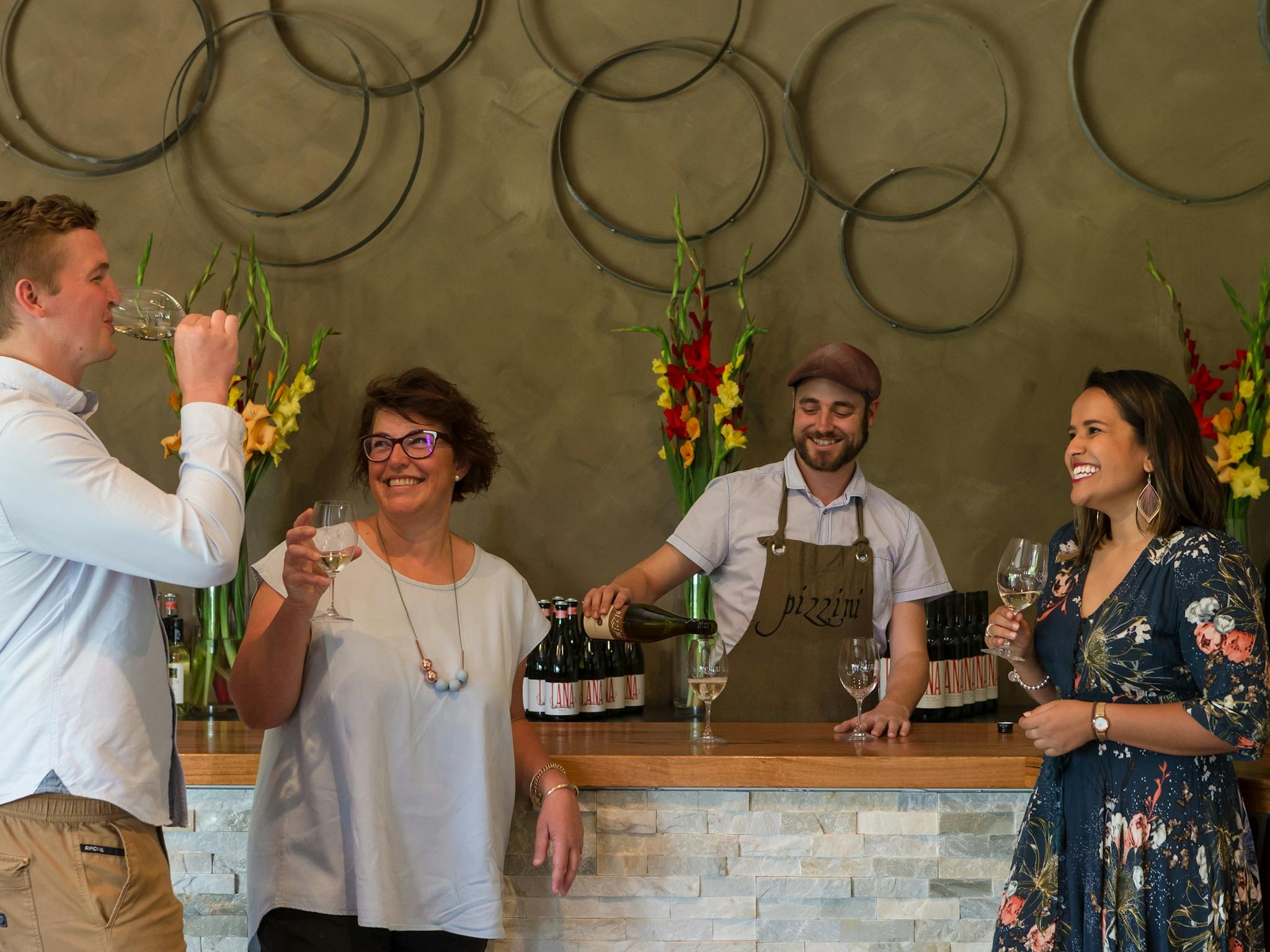 Open your eyes (and palates) to the surprising potential of Prosecco with this revelatory food and wine matching experience held at Pizzini Wines.
The sensory immersion starts when you step into the Kiln Tasting Room – an original tobacco kiln from Pizzini's past agricultural life transformed into a luxe, light-drenched sampling space. Here, you will enjoy a remarkably energetic and fun-filled 45-minute session that will introduce lesser-known aspects of the Prosecco personality. For example, who would have thought Prosecco could pair so perfectly with the likes of popcorn and blue cheese?
Carpark
Non Smoking
Public Toilet
Half Day or Less
Food and Wine Tours
Disabled access available, contact operator for details.
Basic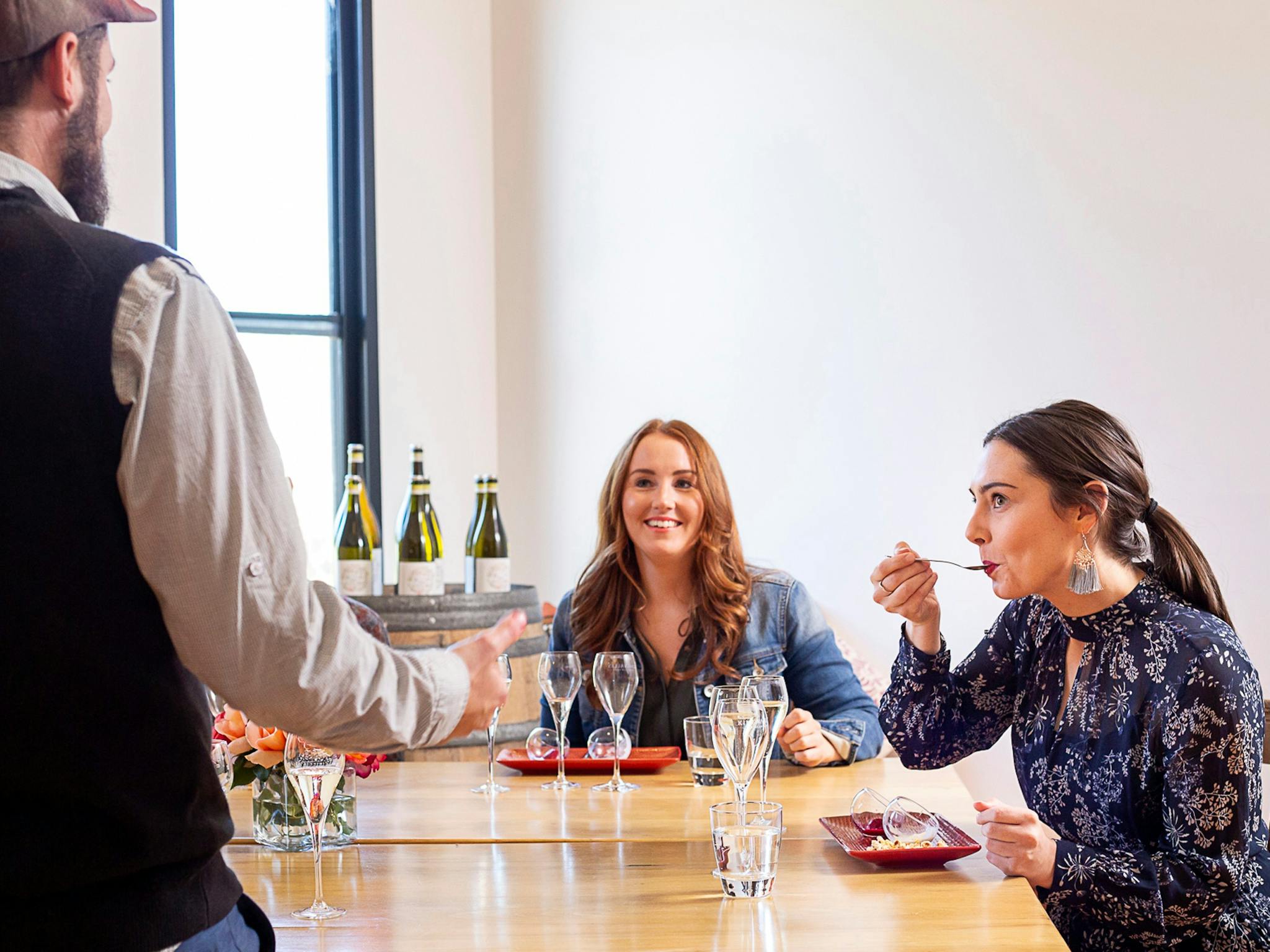 A private barrel tasting in our beautiful kiln tasting room to be enjoyed with a plate of freshly sliced prosciutto.
Head to the newly renovated kiln tasting room and enjoy a private wine tasting with a difference. Sample wines straight from the barrel and learn all about the art of making wines from varieties such as Sangiovese, Nebbiolo and Canaiolo.
As you sip, swirl and learn, you can enjoy some delicious prosciutto, freshly sliced – the perfect accompaniment to Italians wine varietals.
Carpark
Non Smoking
Public Toilet
Half Day or Less
Food and Wine Tours
Disabled access available, contact operator for details.
Basic